At Habitat Guatemala we are grateful to have met so many volunteers during our 41 years of work in the country.  Through our Global Village Program, we have received countless amazing volunteers, and definitely have formed great connections.
We want you to meet the Laneys, M. C. and Terry, who have supported Habitat Guatemala for many years. This post seeks to share how their journey with Habitat started and how they continue to support us.
M.C.:  A former deaf education teacher and artist.  Began volunteering with local Habitat affiliate in 1996.  Lives in Davidson, NC.  Joined staff at local affiliate in 2000.  Went on first Global Village Trip, a Women Build, to Portugal, just after 9/11/2001. Is a Global Village Team Leader.  Women Build volunteer/House leader locally. Eventually became Director of ReStore Operations for two stores.  Now retired.
Terry:  Former Director of Operations for all company owned Pizza Hut Restaurants in North Carolina.  Began volunteering with local Habitat affiliate in 1996.  Joined staff in 2000.  Became Executive Director of affiliate in 2002, until 2013.  Moved to a struggling Habitat affiliate in 2014, and retired in 2018. Is a Global Village Team Leader.
Before we went on our first trip to Guatemala, we couldn't even find it on a map.  Our local affiliate had been tithing to Habitat Guatemala since 1988.  We joined the first Global Village Team from our affiliate, and in 2003 headed to Guatemala to follow our tithe.  We were very impressed with the programs they had in place, and how they were using our tithe.  We found the families there were no different from us, as they too just wanted a better life for their children.  The Habitat Guatemala staff were very patient with us and answered our thousands of questions as this experience was all new to us.  We began building a strong relationship with their Board of Directors and a lifelong friendship with their previous Executive Director, Don Luis Samayoa.  We saw firsthand, the impact Habitat Guatemala was having on the lives of families there.  Through the relationship with Don Luis, he shared his hopes and dreams for the families of Guatemala.  We were seeing Habitat at work, at the most grass-roots level, with the most basic of living conditions, and knew we wanted to be a part of their dreams and solutions.  Thus far, we have made 25 trips to Guatemala, with more to come.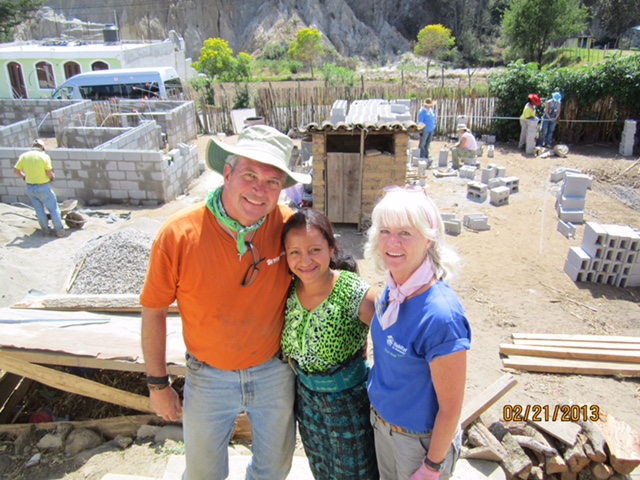 how long have you been an HFHG volunteer?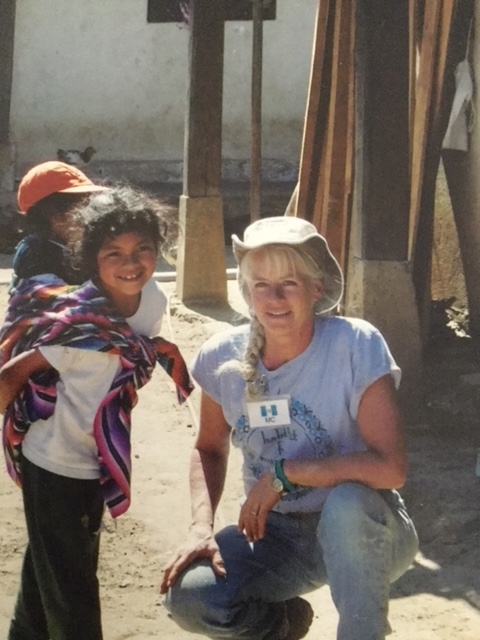 We physically started going to Guatemala 17 years ago.  However, we shared with our community, the impact our tithe was having on Habitat Guatemala, for years before that.  For every house we were building locally in North Carolina, our tithe funded another 3 homes in Guatemala.  Our tithe of 10% included profits from our ReStores, other unrestricted funds, as well as 10% additional from our House Sponsors.
Top 5 of greatest moments:
After hearing about Habitat Guatemala's "smokeless" stove program, as a means to improve the living conditions for those who could not afford a Habitat home, we knew we wanted to be involved.  We were excited to be a part of the first Global Village Team to build a "smokeless" stove with a family who had a very ill 19 month-old.  Doctors had told the family that if they didn't get rid of their open fire pit in their home for cooking, their child could die from respiratory failure.  Building this stove was extremely impactful for us as we had recently lost our 19 month old grandchild.  And because of this stove, we were able to play a small part in helping to save their child.
Dancing and singing on the job sites with the families, other teams, our masons, and Habitat Guatemala staff, building relationships, as it is ALL ABOUT relationships.
Making tamales and tortillas with families, and then sharing the meal with them. As our relationships grew throughout the week, we were now working side by side preparing the meal, and sitting down to share it with old friends.
Two Executive Directors, Don Luis and I, building a latrine together, with pallets, during the 75,000 Families Served Celebration, was certainly a powerful moment for me (Terry).
Building a home, deep in a cornfield, for a widowed mother and her children, M.C. bonded with a little boy named Juan, who stayed by her side all week. The last day on the job site, as we were leaving, he hugged her and thanked her because "now my mom doesn't cry anymore at night, because she has a beautiful home for her children.  Gracias, Gracias, Gracias, I love you."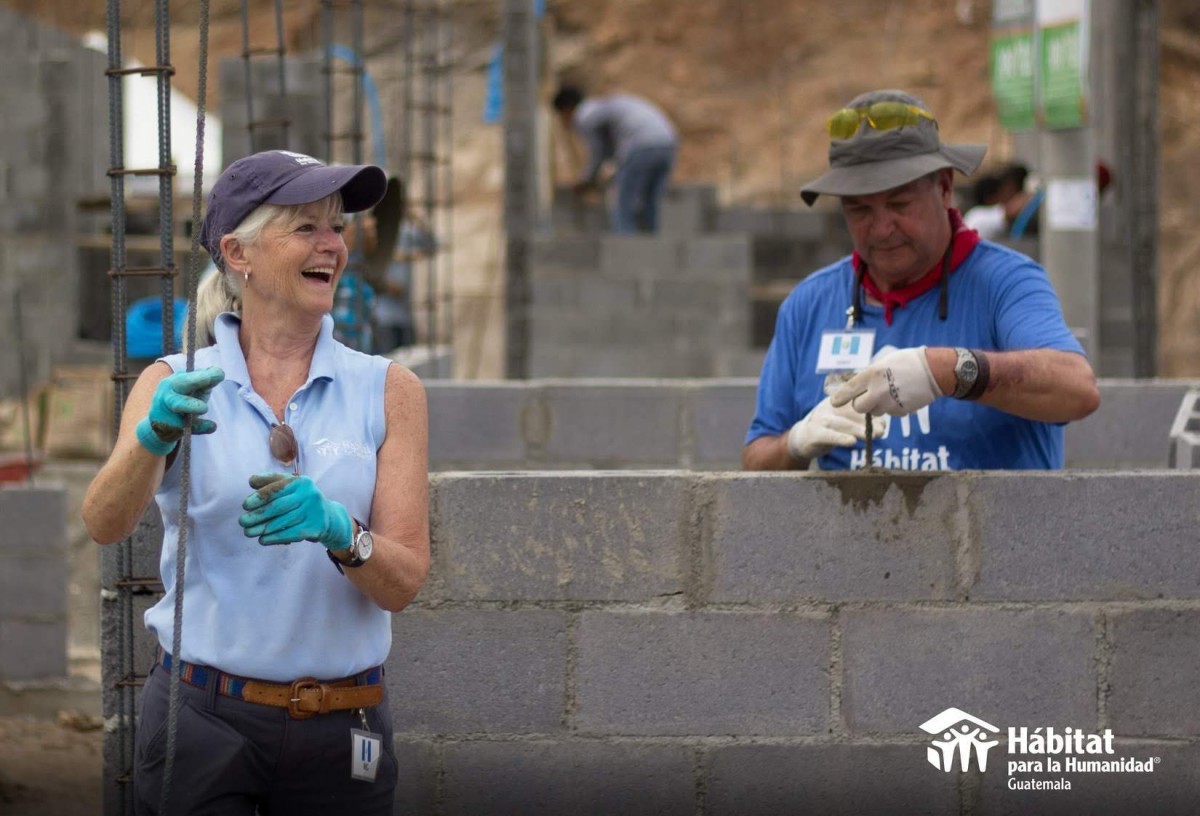 What do you like the most about our program?
We love how open and sharing Habitat Guatemala is with their struggles, as well as, their successes.  With the GV Teams, it is not just about the building process… they make sure we learn the history of the country and area; the political climate and how it affects Habitat. The program helps us gain perspective about the way of life and culture of Guatemala, truly opening our eyes as we experience their country, not as a typical tourist, but in a much more personal way, up close and personal. We are given the opportunity to witness and experience the vibrant Guatemalan culture and way of life, systems of beliefs, all as we come to appreciate the Guatemalan people and their joys as well as struggles.
We love that Habitat Guate provides us with opportunities to engage young people from our local communities:   Water Filters are another of Habitat Guatemala's solutions for families.  Ninety-five percent of the water in Guatemala is not potable.  Their water filters are life changing, and literally, life saving for families.  This is also a wonderful way to get our local communities and schools involved with Guatemala.  Working with a local Charter School, we are able to partner with them on their annual "Water Walk" on World Water Day, in March of each year.  The "Water Walk" is a walk to the local lake to collect water in buckets, to then carry it back to the school. We then demonstrate how the water filters work, bringing attention to the millions of families worldwide who do not have easy access to potable water.  This would have been our third year this year, but unfortunately we will have to wait until next year due to the COVID-19 pandemic.  The students at the school were able to raise funds for 189 ($35 each) water filters for 189 families in Guatemala, over the previous 2 years.
A message encouraging everyone to join in
We may be from different cultures, but we all want the same things for our families: a safe and healthy place to call home.  This is the great equalizer.  Happiness and hope is not decided by the size of a home.  What may seem small to us, brings them great pride and dignity, something we all need in our lives.  This is where Global Village Teams come in.  We can show people that we are paying attention, we DO care, and DO want to help them improve their living conditions, no matter where they live.
We have brought volunteers from all walks of life, high school students, members of the community, U.S. Habitat homeowners, teachers, professionals, families, churches, members of other Habitat Affiliates, along with us on our Global Village Trips, all coming together to make life better for others.  You can't do it by sitting at home (although donations are ALWAYS welcome to Habitat Guate).  We ALL can be part of the solution.
Our dear friend, Don Luis Samayoa, passed away unexpectedly, in 2016, and while it was a hard blow for Habitat Guatemala and the families there, his successor, Victor Velasquez , has been able to keep them focused on their next milestone.  Victor worked in the office with Don Luis for 15 years, and shares his passion for helping the families of Guatemala.  M.C. and I were able to host Victor and two members of his team this past year, at our home in Davidson, and we are very excited about the future for them.
The vital contributions Global Village Teams make to Habitat Guatemala, are the pictures and stories brought back home and shared with others.  We always leave a part of ourselves there, as it means so much to us.  Every visit there, has been a life changing experience, with each one being so different.
Terry & M.C. Laney
Habitat Guate Fans and Volunteers!
https://www.habitatguate.org/wp-content/uploads/2020/05/laynes.jpg
456
608
profiles
https://www.habitatguate.org/wp-content/uploads/2019/11/logo-negro.png
profiles
2020-05-18 11:50:15
2020-05-19 13:14:02
#meetourvolunteers Terry & M.C. Laney