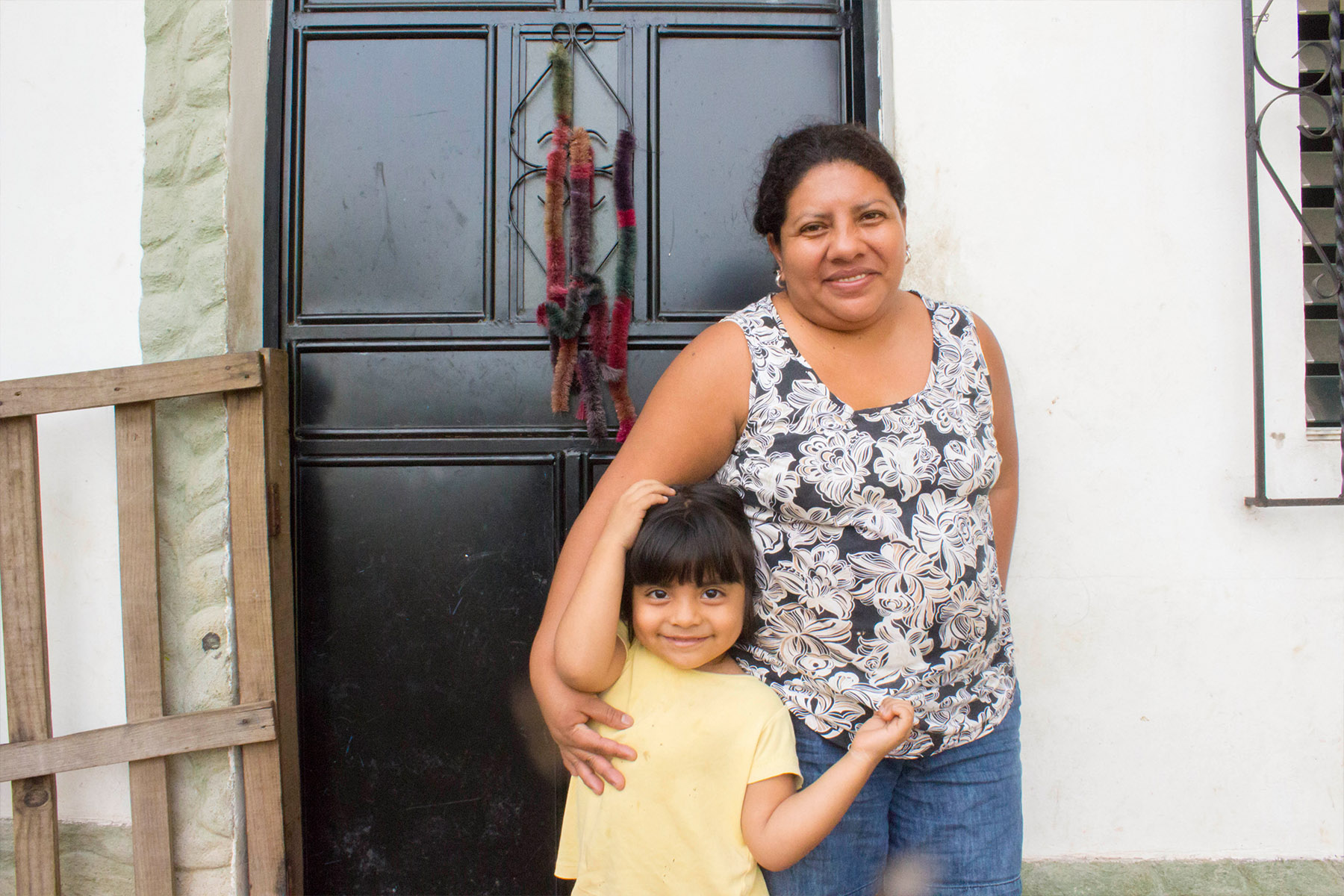 Avila Martina Ixcol Can (29) remembers November 6, 2016 with joy. The date commemorates the moment when she and her husband, Juan Carlos (30), moved into their newly constructed Habitat Guatemala home. On a rainy afternoon, she paints the rich and long history of her family's extensive relationship with Habitat Guatemala. She and her husband are the next generation of Habitat Guatemala homeowners that also happened to grow up in homes constructed by the organization.
"Since we first started dating, we wanted a home," Avila explains. "We started thinking, 'how can having my own house make me more independent?' If we rented, it wouldn't be ours. We knew that we had this opportunity, and although we would have to save for it, it would be worth it. So in May of that year, we started the paperwork and financing." She smiles. "My parents offered their advice."
Avila gestures outside the window. "If you go up this hill a bit, you can see the house where we used to live." Looking outside, the sloped landscape is dotted with living settlements. Amongst them, the distinctive white walls of another Habitat Guatemala house are visible. "There were sixteen of us there, living in seven rooms."
She pushes her glasses up her nose. "There were no problems with the old house, it's just that it was a tight fit. But you wanted to do something for yourself, you couldn't."
Since moving in, Avila has realized greater balance between her work life and home. She works as a primary schoolteacher near the town of Argueta while Juan Carlos spends the week as a truck driver, returning on the weekends to sell baked goods from their front door. "Having freedom is easier. Here, we can take our time in doing things. We are only two, soon to be three," she laughs, rubbing the top of her stomach.
Since moving, Avila is also pleased with how the house has taught her how to effectively plan for major financial decisions with her husband. "We are happy. We split the cost of the house together to make something that we are in agreement with. Here we are; it has been completely worth it."
When asked about the group of volunteers that came to help build her home, Avila only has kind words. "It was a beautiful experience to work with the group. They visited me at the school and played with the children and my nephews. They were joking around with all of the kids." Avila would like to thank them for their support. "You have helped us achieve our dream. We will be waiting to receive you once again when you come back. We will always be here for you."
Her final thoughts: "Habitat Guatemala has always been there for us. May those who work with the organization continue to do what they do."
https://www.habitatguate.org/wp-content/uploads/2019/05/Familia.jpg
1200
1800
admin
https://www.habitatguate.org/wp-content/uploads/2019/11/logo-negro.png
admin
2017-06-22 16:46:55
2019-12-17 16:27:10
The Ixcol Can Family