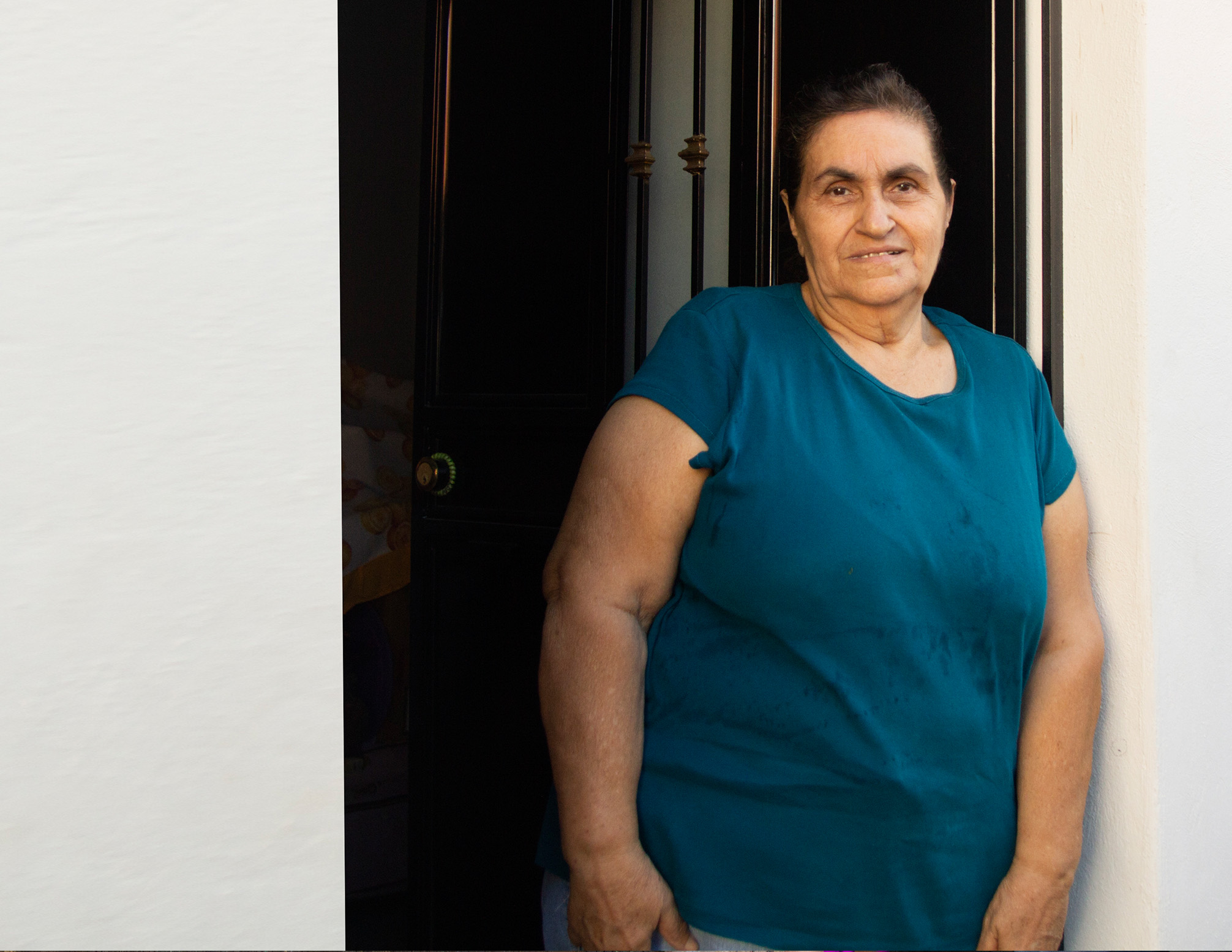 Juana Tobar
Juana Tobar's yard is a rainbow. Corncobs fresh from the harvest are stacked one on top of another in shades of pale and deep yellows. Bright, green grass blankets the property and leads out to a freshly sown field, where the next season's crops grow. Neighboring trees have begun to bloom brilliant red and purple flowers. Amidst the foliage, Juana shows us her wooden latrine, which stands quietly in the shade. "Our Habitat latrine is cleaner and steady," she mentions to us. "Before, our old latrine was small and wobbly. There was no privacy, and it was made of a mix of bamboo pools and mud, which made it unsteady."
Juana is meticulous when it comes to upkeep. One year after receiving a Healthy Home Kit, her smokeless stove, latrine, and water filter are in impeccable shape. Juana's nine-year-old daughter, Soraya, drinks a glass of water from the filter tap while we speak. "The new filter works well," Juana comments. "There was so much water to boil before, and now, it's not a problem."
Other tasks in her life have also become easier. Cooking tortillas is a nearly effortless process, and Juana can make twice as many as she could before on her old stove, which was dangerous and unreliable. "The grill was twisted, and we couldn't cook with it effectively. The base was made of unsteady blocks," she remembers. She also faced challenges with the smoke that it produced. "We had many health problems; we were always coughing. The smoke also would hurt my eyes a lot."
She is pleased with the smokeless stove's economic impact, too. "The new stove works well. It uses less wood, which saves us more time." She laughs. "My husband and I have a deal now that, once a week, he will put on his gloves and go look for wood if I keep the stove clean."
Juana has a special message for the group that came to help build with her one year ago: "I am very grateful for the work that you have done and the opportunities that you have provided us. May God bless you."
Maria Candelaria
Maria Candelaria, her husband, Alberto, and their three children, Wilfred, Glendy, and Cesar, live in the clouds. To reach their house from the town of Godinez, three steep hills, two farms, and a narrow, winding footpath stand in the way, proving daunting to new visitors. "Are you okay?" she jokes as we climb the final steps to her house, nearly out of breath. Seven-year-old, Wilfred and his younger sister, Glendy, giggle in unison at our red faces. "Did you know that the team who built our stove hauled the block machine all the way up here?" Maria laughs. "They were so strong!"
Despite her warm humor, Maria is serious when she describes why she needed a Healthy Home Kit for her family. She recognizes that living in a remote area has several disadvantages. Alberto is a construction worker who helps with major road projects and must leave his family for days at a time, leaving Maria to take care of the kids. She explains that every task in her daily routine, from bringing goods to and from the market to obtaining water can be a challenge. Especially while carrying her toddler, Cesar, on her back. She stresses that before she had a filter, there simply was no time to obtain clean water.
"We used to drink water directly from the stream, which is all the way down the hill," Maria says. "It caused us so many stomach pains. We knew we were supposed to boil it, but it was hard, because we live so far away." One year later, Maria is pleased with how much the new water filter has positively impacted her family's life. "Now, if we want water, we can just get it from the tap. Although we have to go down to the stream once in awhile and take it up the hill, we can let it set on its own."
Maria also speaks of how the wooden latrine has changed her routine."Our old latrine had no roof," she explains. "The booth part was made with bamboo poles and mud." Not only is the new latrine closer to their house, but it is cleaner and offers privacy that was unavailable before. Glendy and Wilfred are also always excited to show it off to new visitors.
Lastly, when asked what her old stove was like, Maria shakes her head in disbelief. She describes the large quantities of smoke that used to leak out of the cracks from the blocks. "The chimney was in bad shape, and the grill was a mess. The children and I used to get a lot of headaches because the smoke was so strong." She says that, after one year of use, her new stove has no structural problems. And the headaches have disappeared.
Maria and her children fondly remember the group that helped build the stove and latrine. Her message for them? "Thank you for giving us support. We don't have very much, but what we have, we will save for you. We are so grateful to you for what you have done to help our family."
https://www.habitatguate.org/wp-content/uploads/2019/01/Historia.jpg
1555
2012
admin
https://www.habitatguate.org/wp-content/uploads/2019/11/logo-negro.png
admin
2017-02-15 12:54:02
2019-12-17 16:27:15
Healthy Home Kits, One Year Later: Juana Tobar and Maria Candelaria